[FORUM] [Repros/Fakes] [Home]

Griswold Santa Cake Mold

Want help in identifying those real Griswold Santa cake molds from the fake/reproduction ones?? Well here's some help. Look that the pix below. Notice the absence of a protruding tongue in the REPRO. Also the lettering "GRISWOLD MFG. CO. ERIE, PA." runs off to the side in the FAKE. Also the casting is rough in the REPRO compared to the glass-like finish of a real Griswold mold. Most, but not all, of the Griswold Santa molds have a casting flaw in the bag (see figure). I've had several real Santa molds that did not have the casting flaw, but believe it was "sanded" off by the previous owners. Now you can identify the reproductions for the real collectible Griswold Santa molds. Pictures are reprinted with permision from David G. Smith, author of "The Book of Griswold & Wagner".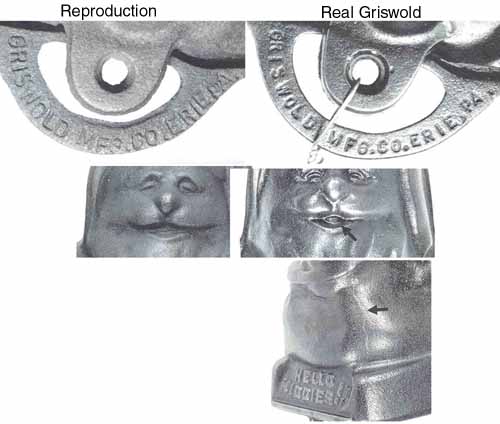 More pix of a real Griswold Santa Cake Mold